May 4, 2023 intreview by Julien Delagrange





Born in 1989 in Rădăuți, Romania, and currently residing and working in London, Mircea Teleagă is best known for his humanless scapes painted in oil and acrylic on canvas. Balancing between landscapes and urban environments, the artist approaches the application of paint almost as if a shapeshifter; from virtuously to vigorously, opaque to transparent, and lucid to destructive. By doing so, in Teleagă's practice, painting becomes a tool to capture impalpable spaces, as he is interested in the notion of emotional ownership of places—an outer world depicting or reflecting an inner world. Born in the year of the Romanian Revolution, Teleagă's youth and background growing up during the aftermath of Romania's uneasy transition from communism to capitalism form a battlefield where personal memories collide with collective history. Earlier this month, the MFA graduate in painting at the Slade School of Fine Arts in London presented his latest works at Unit 1 Gallery Workshop in the English capital—another chapter in the development of the Romanian artist's intriguing oeuvre. So today, we have the pleasure of having a chat about his latest show, his artistic ventures, and his journey as a painter—literally and figuratively speaking.

Read full interview here.




---
duo exhibition at OHSH South, London, UK
7 - 18 November 2023




In Our Own Time is a duo show with artist Caroline Jane Harris at OHSH South, Peckham Arches in London. The show is curated by Nick Scammell and Jon Sharples.

Private View: Tuesday 7th November, 6–8pm.

The exhibition will be open until 18th November. The gallery is open Friday and Saturday, 12–8pm or by appointment. Please do get in touch if you would like to visit the exhibition outside opening times.

Full address:
OHSH South, Peckham Arches, London
SE15 4QN




---
Locus Solus
solo exhibition at Unit 1 Gallery Workshop, London, UK
31 March - 29 April 2023



I am very excited to announce my new solo show 'Locus Solus' with Unit 1 Galley Workshop opening in London on 30 March 2023. The exhibition is open from 31 March to 29 April 2023, Tuesday to Saturday, 11 am to 6pm.

Mircea Teleagă Locus Solus at Unit 1 Gallery|Workshop is an exhibition featuring a series of mainly large-scale paintings exploring images of the forest and nature as place, as abstraction, as locator and as infinitely ungraspable. Featuring 16 works across the two rooms of the gallery, the exhibition presents a body of work developed over the course of two years.




---


4 January - 31 March 2023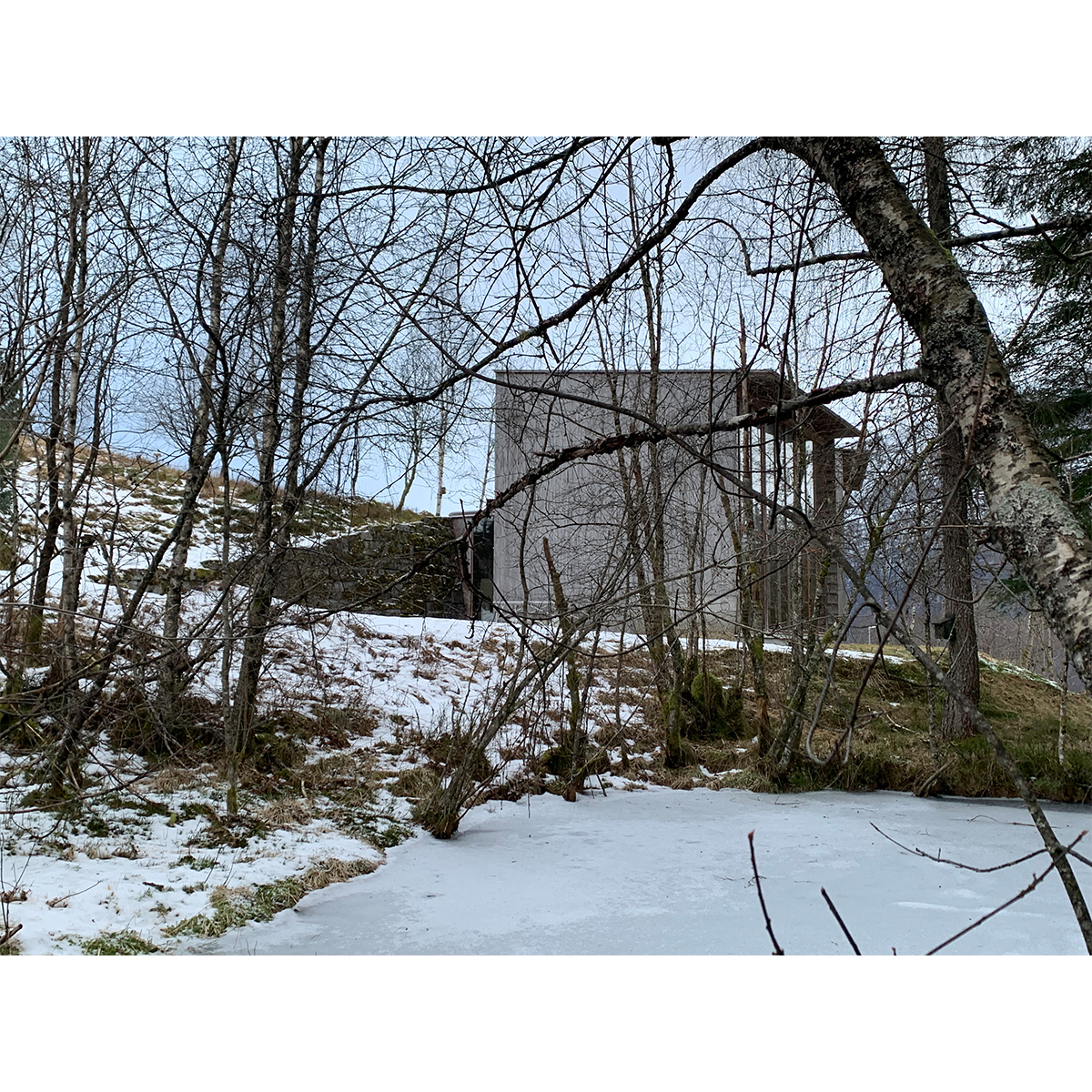 I am thrilled to have been selected as an artist in residence at the NKD in Norway from Janaury to March 2023.

The NKD is located ona narrow fjord in Dalsfjorden. Established in 1998, the Nordic Artists' Centre in Dale is a non-profit contemporary art institution owned by a self-sustained foundation and mainly supported by the Arts Council Norway. Since its foundation, NKD has created opportunities for emerging and established artists, designers, architects and curators to research, develop their practices and network with colleagues.Besides fostering a highly respected international art-residency programme, NKD also regularly promotes open studios, workshops, seminars and exhibitions to the public.

Fore more infomation please visit https://nkdale.no/about-nkd/




---


17 - 29 January 2023





John Martin Gallery is pleased to present 'Hinterland' an exhibition that brings together the work of 17 contemporary painters: Radu Baies, Tim Braden, Hannah Brown, Martin Gale, Martin Greenland, Jan Hisek, Endre Kis, Mario Lobedan, Joanna Logue, Barry McGlashan, Philip Maltman, Bogdan Mihai Radu, David Rae, Serban Savu, Mircea Teleaga, Polly Townsend and Uwe Walther.




Hinterland
Curated by Jane Neal
John Martin Gallery at 4 Cromwell Place
South Kensington
London, SW7 2JE
17 – 29 January 2023



As the title suggests, the show focuses on the imagery conjured by the meanings associated with the German word. Taken literally, 'hinterland' refers to a stretch of coastline or area immediately surrounding a large expanse of water. However it has also come to embody a more poetic meaning. The word is synonymous with remote wilderness, backwaters, unchartered territories and metaphorical wastelands - both physical and psychological. Hinterland taps into the uncanny, it evokes dark Nordic dramas. In areas where because nothing is supposed to happen, the subconscious mind can roam free and project into this strange, alien space and picture it as a genesis for all sorts of happenings. It is somewhere hidden, perhaps forbidden and at the boundary between planned space and wild nature. Thoughts and fears come fast and unbidden when 'the hinterland' is mentioned. It is inspiring simply because of its emptiness. When nothingness reigns supreme and boredom nags, mischief can be made as the mind seeks to fill the gaps. Hinterland is both real and unreachable. It lies just beyond what we know and can define. It is the 'dead' time between January and February, after the festivities and fun have past, but before the first signs of spring appear. It is what we dread but know is coming, creeping up on us like age but it harbours hope for here in the wilds things can begin anew without being watched, censored, crushed. It can be the origin of new life, the flood plain that saves a village, the incubator of nature that had nowhere else to go. It is the hinterland.




---



December 22, 2021 - The Wick Culture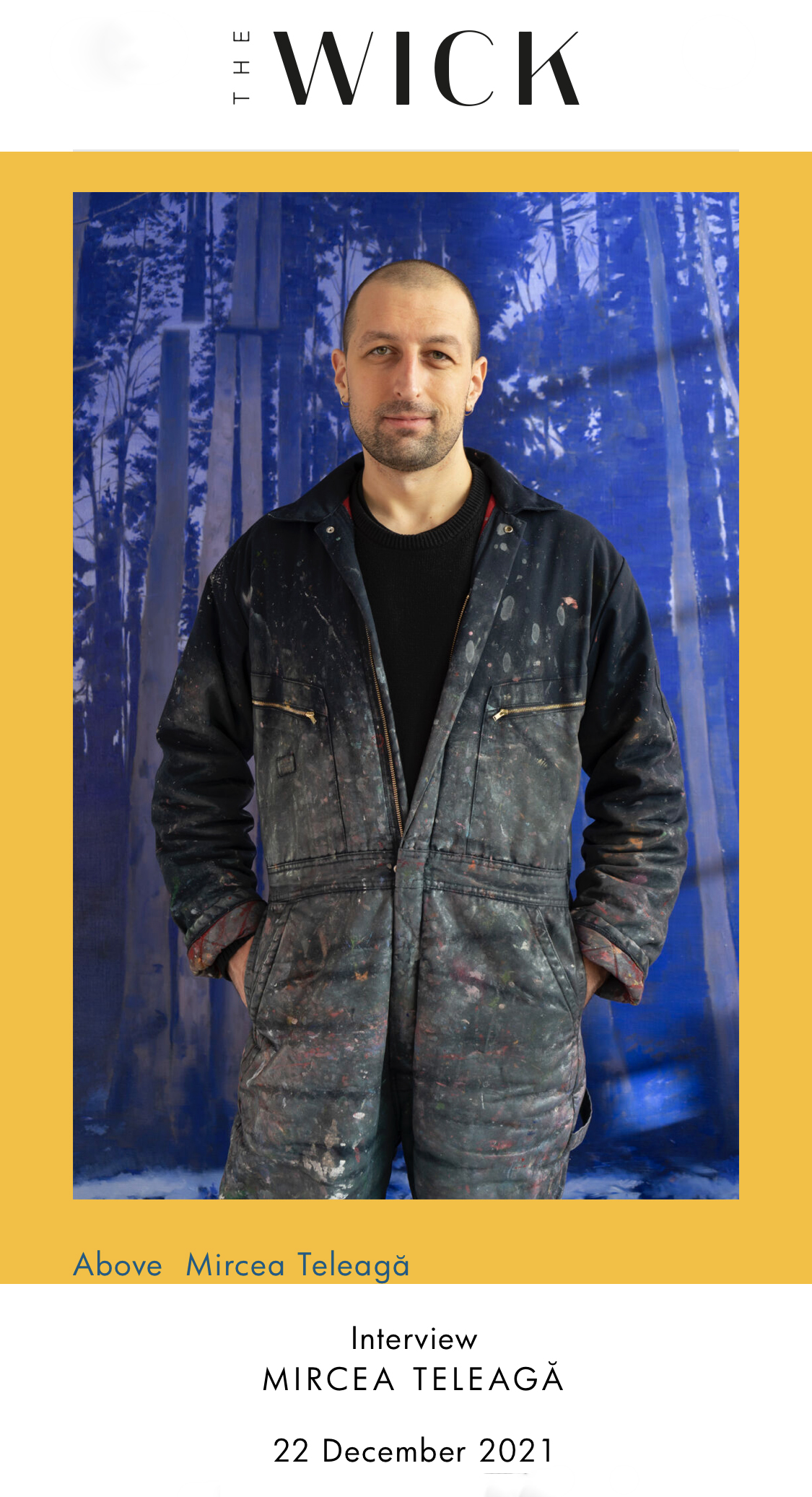 I am very excited to let you know I have been championed by curator Jane Neal to feature as a Spotlight in the Wick Culture. I am incredibly thankful to Jane for her contribution to this dialogue.


Curator Jane Neal has been described by ARTINFO and the Financial Times as one of the most knowledgeable independent curators working today in the field of painting. When she champions an artist, you take note. That's why Mircea Teleagă, who was awarded the Sarabande Lee Alexander McQueen Scholarship while studying painting at the Slade School of Fine Art, is one for your radar ...


Read the full text on The Wick Culture website.
Romanian Painter Mircea Teleagă Championed by Jane Neal
https://thewickculture.com/list/themes/spotlight/




---



April 11, 2021 by Nick Scammell - interview published in C4 Journal






'Where are we? In a derelict, overlooked corner within a tarnished and uncertain land. A cryptic entropia perhaps condemned, perhaps forgotten. We might be in the Zona of Tarkovsky's Stalker, or the opening 20 seconds of Joy Division's Atmosphere, or even Stan Brakhage's artist film epic, the circling and looping Dog Star Man. But this is not a destination. It's where we might briefly be, while on the way to somewhere else.


Repetition is very important in my work. I am working with a lot of elements that are unique and specific to a time and place of making, and a state of mind. But in trying to replicate that somehow, multiple variations appear.

Though it would be easy to locate Mircea Teleagă's practice at the soft border between representation and abstraction, such a placement doesn't please the Romanian artist. For him, these terms obscure rather than clarify, are monsters grown from mental shortcuts.

The fact I repeat an image so many times, that underlines there is no original image that is being replicated and all the variations can exist as originals ...'


Read full interview here.




---
group exhibition at Space K, Seoul, South Korea
9 July - 31 August 2018

Romanian Eyes is a group exhibition at Space K in Seoul, South Korea, featuring the works of Romanian artists Marius Bercea, Vlad Olariu, Leonardo Silaghi and Mircea Teleagă.


---
Presence
solo exhibition at Sarabande Foundation, London, UK
11 - 28 April 2018




Sarabande Foundation, in conjunction with William Davie, are excited to announce Mircea Teleagă's solo exhibition "Presence". The exhibition will feature new and recent paintings by Teleagă and will be accompanied by a fully illustrated catalogue with texts by Justin Mortimer, Caroline Walker and Jane Neal.




---